kenwood
Largemouth Rank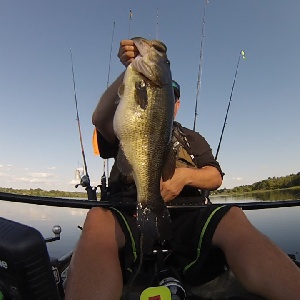 Joined: 14 Apr 2014
Posts: 729
Total Points: 886

Posted: Mon May 15, 2017 9:24 am

Post subject: MA Kayak Bassin' 2017 - Tournament #2: Glen Charlie Pond

---

I forgot to post a sign-up for this one here, but here are the results if you're interested:

Glen Charlie is in the books!

We had ten hardcore manly men show up for this one. Prior to launch, it was relatively calm. A little windy, sprinkling a bit, not bad at all. But literally the moment we launched the wind ratcheted up to…oh, 90 mph or so, and it started to downpour. I struggled to get out into the main lake and over to the coves. I could barely move the kayak.

Thankfully the coves and some other areas weren't bad.

And because Mother Nature is a cruel beast, the moment we beached our yaks at 3 PM, the rain stopped, the clouds broke, and sun came out. Pretty sure I heard it laughing at us. Haha.

Anyway, Mark Johnson took third place with 70.75 inches. He also took home the money for lunker with an absolute SLOB largemouth (21.50″) that weighed 8 pounds! Unreal, man. Congrats!

Kyle Freddrick Dudley also got in on the lunker action with the only smallie caught. Not an 8-pounder, but close (11.75″).

Due to an open-mouth deduction and a judging mistake on my part, I announced Mark as the second-place finisher at the lake. However, Anthony Tempesta actually placed second with 71 inches even.

I managed to get on an early bite in one of the coves, starting with a 19.50-incher, which was tournament lunker until Mark crushed that dream. I caught seven fish total, with my biggest five going 81.50, good enough for first place.

I caught all but two of my fish on a Rocky Ledge Tackle Swimming Spinnerbait (such a killer bait) and the other two on a Fat Ika (also killer).

Congrats, everyone! I appreciate you guys coming out, especially in that kind of weather.

You can check out the full results here:

https://tourneyx.com/app/tourney/ma-kayak-bassin-glen-charlie-pond-2017

Next tournament is Lake Boon in Stow on May 20. Hope to see you there!